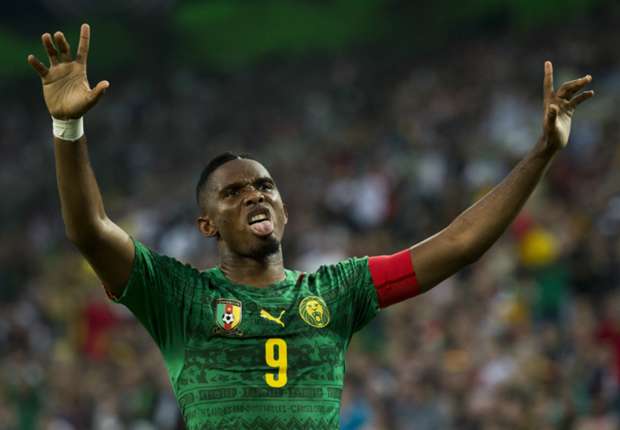 The Indomitable Lions midfielder believes that his
national team captain can be the difference between
the two sides when they take on Mexico in Group A on
Friday
Eyong Enoh has hailed the influence of Samuel Eto'o in the
Cameroon team, declaring that the veteran striker can lead
them to victory against Mexico.
The former Barcelona and Chelsea forward is the
Indomitable Lions' all-time top scorer, having grabbed 56
goals in 115 appearances, and has won two Africa Cup of
Nations trophies with his country.
Speaking ahead of Friday's Group A encounter, Enoh
stressed that Cameroon will place a great deal of emphasis
on their captain's performance and believes that he will be
instrumental in any World Cup success they enjoy.
"I think everybody knows Eto'o and his abilities," the
Antalyaspor player told a press conference.
"He is our captain, our leader, he has a lot of experience and
we hope he is in his best shape to lead us to victory.
"We know the Mexican team well - we worked a lot with the
staff - but we are going to focus on our strengths and we
are ready for [Friday's] game."
Cameroon have had a long history in the World Cup, with this
summer the seventh time that they have entered the
competition, and Enoh's hopes for a good run in the
tournament are echoed by his team-mate, Nicolas N'Koulou.
"We are a united group, we are a family, we came here very
motivated and we hope to compete well," the defender
added.
"Everything is possible in a World Cup, we are all going to
play. The most important thing for us is to win the three
points, we'll play well and hope everything goes OK."