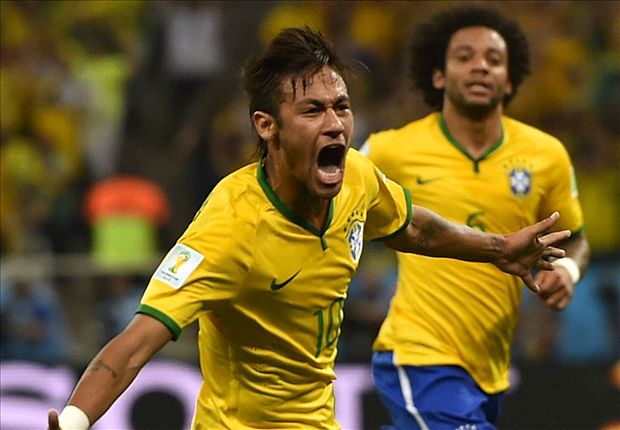 The hosts got their party off to a winning start but
Niko Kovac's side proved in Sao Paulo that Brazil,
among the tournament favourites, have chinks in their
armour
COMMENT
By Richard Jolly
It might be an exaggeration to say the world was watching
but much of it was. Some were not merely watching but
picturing proof that they were doing so. Daniel Sturridge
should be leading England's attack on Saturday; from a
vantage point in his hotel, he tuned in to watch a likelier
Golden Boot winner, Neymar.
It is part of Brazil's capacity to captivate. More significant
for the participants in World Cup 2014 is the quest for
knowledge. Neymar's excellence may not have constituted
news – although his ability to deliver under unimaginable
pressure was instructive – but more revealing, for England
and the other teams who belong in the second rank of sides,
was the sight of chinks in the armour of one of the
favourites.
Brazil's greatest footballer previewed the World Cup by
saying that this was no typical Selecao side and that, unlike
most of their predecessors, Luiz Felipe Scolari's team were
stronger in defence than attack. Wonderful player as Pele
was, he has proved a reliably hopeless pundit and, once
again, he may be wrong.
Scolari's charges had only conceded two goals in their
previous nine games but, within a quarter of an hour, one
full-back – Marcelo – had put the ball in his own net after
the other, Dani Alves, went missing and allowed Ivica Olic to
cross. Perhaps more culpable than either was David Luiz,
who allowed Nikica Jelavic to get ahead of him at the near
post, indirectly resulting in Marcelo becoming a history-maker
as the first Brazilian to score an own goal in the World Cup.
When the Chelsea man's move to Paris Saint-Germain is
ratified, he will become the most expensive defender in
footballing history but Luiz can still display an idiosyncratic
approach to defending. He brings eccentricity to a position
where many prefer solidity. Behind him, Julio Cesar, who lost
his place in the QPR goal during their relegation season of
2012-13, was out-jumped by Olic when the excellent Ivan
Perisic had a leveller harshly disallowed. Brazil lived
dangerously as Croatia competed valiantly.
If it is too soon to say that this is another Selecao side with
a soft underbelly, theirs scarcely seemed a watertight
rearguard as Croatia attacked intelligently. Alves looked the
Brazilian Glen Johnson, exposed more than once and
afforded too little protection. Hulk, who normally shields him,
was switched from the right wing and ineffectual. Fred, the
sole striker, did little apart from win the decisive - but dodgy
- penalty.
Oscar was brighter than he had been during an
underwhelming second half to Chelsea's season and
garnished his display with a late goal but, compared to the
feared front four fielded in 2006 – Ronaldo, Ronaldinho,
Adriano and Kaka – the class of 2014 have less stardust ...
with one exception, however. While this was a match to
illustrate the size of the load on Neymar's young shoulders,
he delivered.
His equaliser was scarcely his cleanest strike but angled in
off the post; his second was almost a superb save by Stipe
Pletikosa. The important element for Brazil was that both
shots crossed the line. The hosts trailed for 17 minutes and
toiled for long periods. They prevailed without stamping their
authority on the match or the tournament.
Croatia, a team in meltdown at the fractious end to Igor
Stimac's reign, could count themselves distinctly unlucky to
depart pointless. The broader conclusion may be that the
gulf between the best and the rest is not unbridgeable. Fine
margins – or imperfect officiating – could decide many a
match.
So, too, could Neymar. He did not just have the England
players reaching for their camera-phones. Kaka, who could
have been wearing the prestigious No.10 shirt, was sat in
the Sao Paulo stands, looking to capture the moment as his
precocious successor converted the spot kick. Yet while the
hosts got the much-desired win, it did rather serve to
support a theory: stop Neymar and you could stop Brazil.