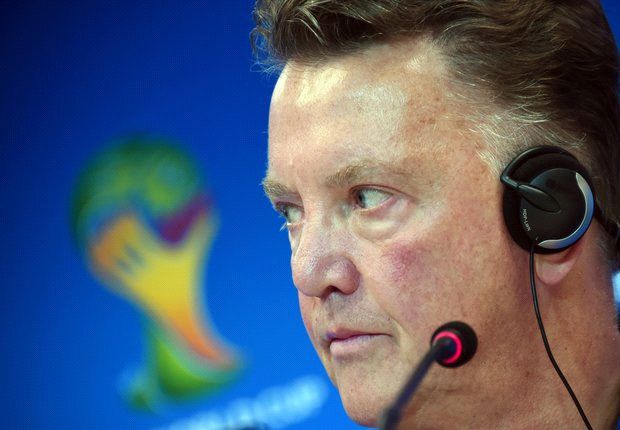 The Netherlands coach takes charge at Old Trafford
after the World Cup and admits the task looming
ahead may have forced him to refocus attentions -
but he is excited by the role
By Mark Doyle in Salvador
Louis van Gaal has played down speculation his new role at
Manchester United has affected his preparations for the
World Cup with Netherlands.
The 62-year-old will take charge at Old Trafford following
the tournament, but has wasted no time in making an impact
at the club by outlining his transfer targets and ordering new
pitches at Carrington.
Netherlands, though, face Spain on Friday as they kick off
their World Cup against the side they lost in the 2010 final
too and Van Gaal has insisted all eyes are on Brazil and the
team's preparations.
"Distraction? Well, it may be a distraction," he told
reporters. "But perhaps Manchester United was a good
distraction."
Australia and the highly rated Chile await in the other two
group matches, but nothing has dented Van Gaal's
confidence in his team's ability to go the distance in Brazil.
"You have to enjoy yourself," he told reporters. "You can't
be serious all the time. You have to release the tension. Cope
with the pressure. We have five weeks here. Make no
mistake: we will be here for five weeks."
However, the incoming United manager admitted the
prospect of refereeing decisions making the final difference
between success and failure at the World Cup makes him
nervous.
"I also feel the tension in my stomach," he added.
"If you play such a big tournament, of course not everything
just depends on your technical and your tactical skills. We
saw that [in Brazil's win over Croatia], for instance - you
can't control everything."
Spain are widely tipped to top Group B as they bid to win an
unprecedented fourth consecutive major international
tournament, and Van Gaal was full of praise for their
enduring success.
"Spanish football might be the best in the world, with the
physical and technical sides all linked up," he insisted.
"I like the dedication of the Spanish players. They are ranked
No.1. We are ranked No.15. We have to play a compact game
against them."