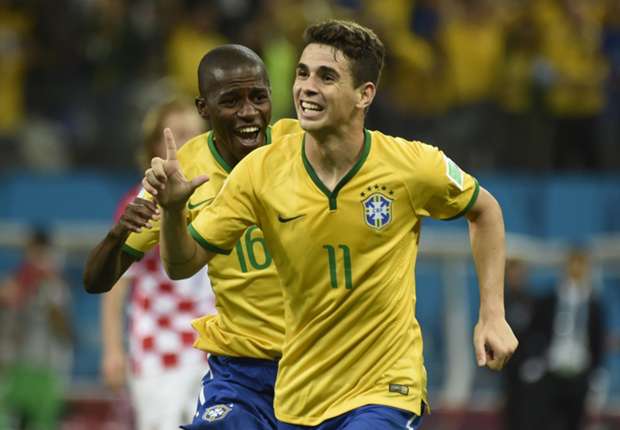 The Chelsea midfielder was the biggest star in Sao
Paulo despite Neymar's two goals and netted the third
- but what does the future hold for him after Cesc
Fabregas's transfer?
By George Ankers
The World Cup got under way in style on Thursday night as
Brazil beat Croatia 3-1 in Sao Paulo. In the first of a daily
look at Premier League transfer targets' exploits at the
tournament, Goal examines the performance of Chelsea
midfielder Oscar...
PERFORMANCE AGAINST CROATIA
National hero Neymar took the headlines with his two goals
that turned the game around but Oscar deserved his late
strike more than anyone else on the pitch. Starting on the
right flank, with the team under huge pressure to perform,
the Chelsea star set about producing a performance of an
intensity that he has been unable to show for his club in
recent months.
His duel with Croatia left-back Sime Vrsaljko was an
entertaining one throughout but one that he won overall,
most eye-catchingly with a superbly determined burst past
the defender to deliver a sensational cross in the 77th
minute. David Luiz headed it well over but the chance
deserved better.
Oscar's contributions came all across the pitch, with his
willingness to win the ball back a real plus – never better
demonstrated than with the challenge that set Neymar on
his way for the equaliser on the half-hour.
And then he netted the best goal of the night just as Croatia
had the Selecao on the ropes in the final stages. Seizing an
opening on the counter, the Chelsea man burst forward onto
the edge of the penalty area before toe-poking with great
precision just inside the bottom corner. Stipe Pletikosa was
flat-footed by the devilish nature of a fine shot.
HE'D BE PERFECT FOR...
Chelsea would be the first answer. With Juan Mata frozen
out and then exiled to Manchester United by Jose Mourinho,
seemingly for not offering enough of a defensive
contribution from the attacking midfield line, Oscar is exactly
the kind of player to provide that, as his display against
Croatia showed.
But a difficult season at Stamford Bridge saw the Brazilian
sidelined by the Portuguese and now the signing of Cesc
Fabregas from Barcelona brings up big questions. It is a move
that shakes up the whole of the Blues' midfield as Mourinho
decides where bets to field his new star and Oscar could
conceivably be pushed further back. The manager has
criticised the 20-year-old's consistency this season and
suggested that the looming World Cup might have seen him
hold back for his club.