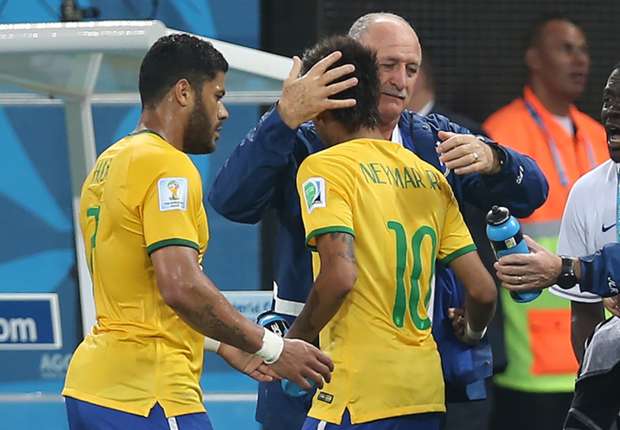 The Brazil head coach has rejected suggestions his side
received any favourable decisions in Thursday's World
Cup opener, as claimed by his Croatia counterpart
Luiz Felipe Scolari insists Brazil did not benefit from a
contentious penalty decision against Croatia despite angry
post-match claims from Niko Kovac.
The Selecao fell behind after an own-goal from Marcelo
after 11 minutes before two goals from Neymar, the second
a hotly-debated penalty, and a late Oscar strike gave them
all three points in a 3-1 win.
Croatia boss Kovac was furious at what he saw as an
extremely soft penalty when Fred went down under a
challenge by Dejan Lovren, but Scolari claimed he saw nothing
wrong with referee Yuichi Nishimura's decision to point to
the spot.
"The ref saw a penalty. He gave the penalty, and he's the
one who decides," the 65-year-old told reporters after the
game.
"And we think it was a penalty as well.
"I'm not going to talk about what the other coach said. All I
say is Brazil has five world titles. So Brazil had five circuses
to win five cups?
"I understand what my colleague has said, and I respect it,
because I think the reason he said was due to the result, and
I would probably be complaining if I had lost the match as
well. But I didn't see us getting favoured by the referee.
That's just something that has been said and it will stay said
and there's no point in arguing about it."
The Brazil boss was positive about his side's chances in the
tournament after the victory and also reserved special
praise for Chelsea midfielder Oscar, who delivered an
impressive performance in Sao Paulo.
"Neymar took the man-of-the-match award, but if there
was a second award it would have to be Oscar's," he
continued.
"Oscar is a good boy. Before the game I went to him and told
him he still owed me a goal and that today was the day, and
afterwards he came to me and said he paid his debt.
"But one of the things that we all wanted to see and had
doubts about was over the resilience of this young group.
Today we know we have evolved at least a bit. There's still
a lot we need to improve to see if this group can take a
punch and get it back together to make it to the end of a
match with a win."