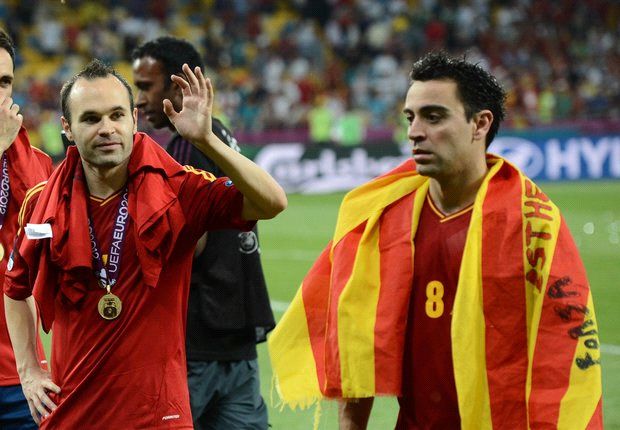 The Netherlands boss feels responsible for the Spain
stars' development and was proud when they
defeated the Dutch team whom he now coaches in the
World Cup final in 2010
Netherlands coach Louis van Gaal is proud of his influence on
the careers of Xavi and Andres Iniesta, with Spain set to
face his side on Friday.
The coach spent two stints at Barcelona - for three years
until 2000 and between 2002 and 2003 - and during
those spells introduced the midfield duo into the first team
from the youth squad.
Xavi and Iniesta were crucial in Euro 2008, World Cup 2010
and Euro 2012 and remain prominent members of La Roja's
setup and Van Gaal believes that his team's opponents have
him to thank in part for their success.
"I have great memories of them," he told Fifa's official
website, "and that's first and foremost because these boys
are also very kind human beings. They haven't forgotten me,
that's for sure, because they're talking about me still.
"They have developed themselves fantastically well since
we worked together and these boys - Iniesta, Xavi and the
others - have for many years been the basis of this
successful Barcelona side.
"So I am proud and happy, too, that I still have a good
relationship with them. I saw these boys playing for Barca B
and I brought them into the first team.
"This was the case with, for example, Victor Valdes and
Pepe Reina. They developed into top goalkeepers, as you can
see at the moment, but I also brought on Xavi, Iniesta, Carles
Puyol ... and we shouldn't forget Thiago Motta, who you now
see playing for the Italian national team.
"They all played in the youth team at Barcelona, I picked
them out, and they have developed very quickly and to a very
high level."
Van Gaal also admits that he was conflicted when Spain
faced Netherlands in the World Cup final four years ago, as
so many of Vicente del Bosque's men had been coached by
him, and says that he had been satisfied to watch La Roja
win in extra time.
"It was a little bit double-edged," the soon-to-be
Manchester United manager said. "Netherlands were there
but there were also five players in the Spanish squad that I
trained and coached. In the Dutch squad, there was only
Arjen Robben and [Mark] van Bommel.
"So you feel, well, maybe I have to support the Spanish
team, although your nationality is Dutch and, in the end, that
made my mind up. But when Spain won I was proud, that's
for sure."
Netherlands face Spain in Salvador on Friday before
subsequent clashes with Australia on June 18 then Chile on
June 23.