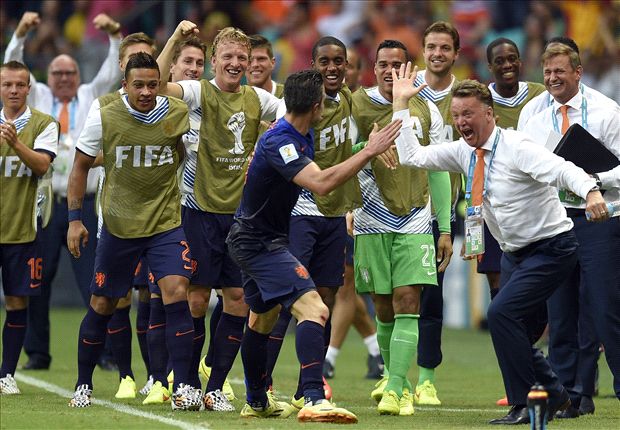 The incoming Manchester United manager admitted
that he didn't think his team would have humiliated
Vicente del Bosque's men in such an emphatic way in
their opening game
By Mark Doyle in Salvador
Louis van Gaal admitted he never even dreamed that
Netherlands were capable of humiliating Spain 5-1 in Friday's
Group B opener.
Xabi Alonso's penalty gave Vicente del Bosque's men the lead
after 27 minutes but an incredible Robin van Persie header
levelled the score before the break.
The Manchester United striker netted once more in the
second half, in between two Arjen Robben goals, while
Stefan de Vrij bundled another over the line as the Dutch ran
riot against La Roja.
And after the match van Gaal admitted that it was a result
that no one would have seen coming.
"The best moment was on the pitch. Everyone was so
happy on the field. No one dared to dream this," he told NOS.
"In the dressing room there was a speech from the captain
[Van Persie] and from Sneijder.
"I never thought it would go like this. After the penalty from
Spain I thought 'will it be a night like this? That the world
champions would win like that?'.
"I was already thinking about what I would do at half-time. If
it was still 1-0 at the break, I would play 4-3-3 to keep the
pressure on the ball.
"But then Robin scored. He headed that ball with so much
feeling. He knew it before. He saw the goalkeeper standing
too far in front of his goal. It was a beautiful goal."
After scoring the equaliser, Van Persie ran over to the
technical area to give van Gaal a high five and afterwards
the coach spoke of his admiration for the player.
"It's fantastic a player does that," he added. "It's a sign of
appreciation, which is mutual."
Despite their perfect start, van Gaal was also at pains to
warn his players that there remains plenty to do if they are
to reach the knockout stages and live up to their opening
performance.
"We still have nothing," he insisted. "This is a good start. If
we don't beat Australia, we have nothing. If we do beat
them then we have a good start.
"We also have to play Chile. I said before we could beat
Spain because they always want to attack. Spain always
want to dominate.
"I wanted that also for 20 years. But you can't always
attack. You must look at the players you have."