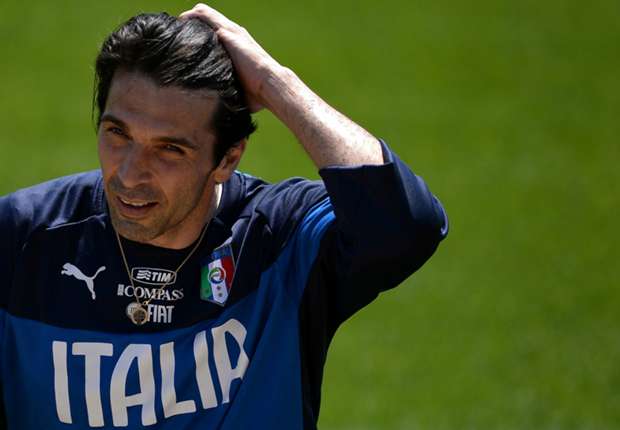 The Juventus veteran left training with an ankle
problem ahead of the Group D opener against Roy
Hodgson's side, who have their own concerns
surrounding left-back Luke Shaw
By Sam Lee in Manaus
Italy goalkeeper Gianluigi Buffon was forced out of training
with an ankle injury on the eve of his country's World Cup
opener with England in Manaus.
Buffon was set to appear before the media at the Arena da
Amazonia on Friday evening following an hour-long practice
session, but instead underwent treatment by physios.
Azzurri coach Cesare Prandelli confirmed the injury to the
Juventus keeper, but played down its significance.
"How do you know this, you were not supposed to have
seen us," he replied when asked by an Italian reporter why
Buffon limped from the pitch.
"It is a very, very light ankle twist. He is receiving treatment
at the moment but it is nothing serious."
England left-back Luke Shaw also appeared to have picked
up a knock during his country's light session at the Amazon
stadium.
The Southampton youngster, who has agreed a record-
breaking deal to join Manchester United, walked gingerly
down the tunnel and indicated an impact injury to medical
staff.
Unlike Italy, the Three Lions' training session took place after
their press conference, so the extent of the problem could
not be addressed by manager Roy Hogdson.