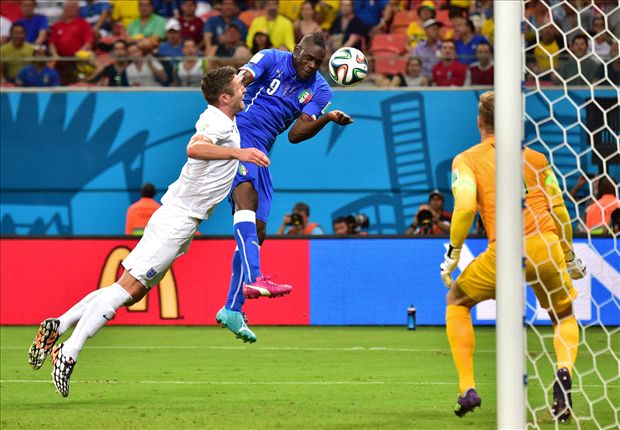 The AC Milan striker had a torrid club season and had to
face down calls for Ciro Immobile to take his place in
the national team but proved to be decisive when
needed most
COMMENT
By Sammy Lee at the Arena da Amazonia in Manaus
When Mario Balotelli asked "Why always me?" back in 2011,
the answer was because he always made himself the story,
via fireworks or bust-ups. Now, in 2014, it is because he is
Italy's best hope of success at the World Cup.
The AC Milan striker is under more pressure to perform than
any of his team-mates this summer and has had to deal with
calls to install Ciro Immobile in the line-up at his expense.
The questions being asked are with justification. It was a
tumultuous season for Balotelli at San Siro and potentially his
last there. He picked up almost as many cards as goals for
the Rossoneri - 14 yellows, one red and 18 goals - and
often looked dismayed at what was going on around him.
Far from being the main man, as he is once again expected to
be for Italy, he struggled and clubs around Europe - including
in England - started to weigh up the pros and cons of prising
this engima away from his 'dream' club. It seemed that the
only pro would be that he would be cheap, given Milan's
willingness to sever ties.
Take into account Immobile's success - he was Serie A's top
scorer with 22 goals - the calls for the Torino man to lead
the line for his country were both inevitable and
understandable.
But it was Balotelli who was there in Manaus on Saturday,
dropping deep to link up with a promising midfield trio, and
there at the back post five minutes into the second half to
head home the decisive goal, which gives the Azzurri an
excellent chance of advancing from Group D as winners.
His performance showed the importance of letting your main
man get on with his job. Had Cesare Prandelli felt the need to
play Immobile, it is highly unlikely that he would have moved
Balo out wide, as Roy Hodgson has opted to deploy Wayne
Rooney.
Balotelli almost put his side ahead on the stroke of half-
time, with a cool, nonchalant chip which had left Joe Hart, all
at sea following a near Andrea Pirlo through-ball, completely
marooned. Phil Jagielka came to the rescue on that occasion
but his partner, Gary Cahill, was nowhere to be seen when
Balotelli drifted to the back stick to nod home Antonio
Candreva's delightful cross.
Balotelli struggled for service in the opening exchanges,
understandably failing to control wayward passes sent in
his general direction but, when given a fighting chance, he
proved the big, strong centre forward that he has always
threatened to be, laying the ball off to his team-mates with
head or chest.
Immobile did replace Balotelli as a 73rd-minute substitute. His
cameo was not particularly impressive, though, spurning one
good opportunity on the break which could have put the
game to bed.
As on Saturday, Balotelli will be there again in Recife to
spearhead his nation's hopes of beating Costa Rica, who
earlier boosted their own chances of progression with
victory over Uruguay. With his team-mates bubbling along
nicely behind it, it could well be all about Mario in Rio de
Janeiro on July 13.