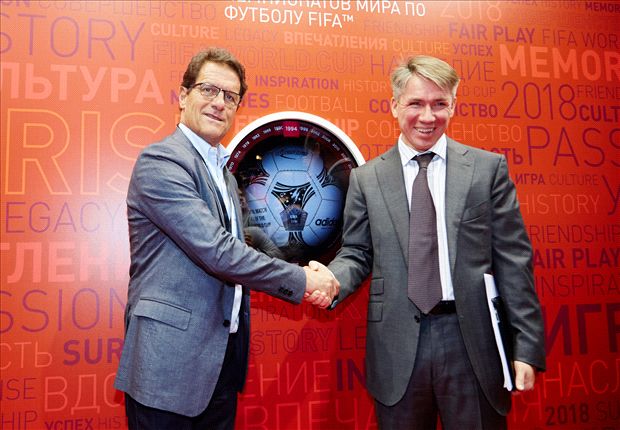 The American lawyer is expected to submit a report
on the findings of his World Cup investigation in July
but the head of the 2018 hosts' organising committee
has no fears
Russia's plans to host the World Cup in 2018 will not be
affected by the outcome of Michael Garcia's Fifa
investigation into corruption in world football, according to
the head of the country's local organising committee.
Garcia is set to submit a report on his findings in July amid a
cascade of stories published by The Sunday Times
newspaper which allege serious impropriety in Qatar's
successful bid to host the 2022 tournament.
Russia saw off the challenge of England as well as joint bids
from Portugal and Spain and Belgium and Netherlands to win
the 2018 finals and Alexey Sorokin is adamant that his team
never contravened Fifa rules.
"We have no concerns with any report," he told reporters at
an event to promote 'Russia House' at Rio de Janeiro's
Museum of Modern Art, an installation to help disseminate
Russian culture ahead of 2018.
"We have always said to everyone that the bid was
transparent and within Fifa principles and ethics so we
have nothing to be intimidated by."
Concerns have been voiced about the vast distances
involved in hosting a major international tournament in Russia
but Sorokin insists that his organisation will work with Fifa
to minimise the pain travel for fans - with possible solutions
including teams playing group games in geographical 'clusters'
and speed trains connecting host cities.
"Two speed trains are already operating from Moscow to St
Petersburg and Moscow and Nizhny Novgorod," he added.
"There are plans to extend that line to Kazan. We'll see how
it will be implemented but there are plans to have speed
trains connecting host cities.
"Our proposal would be for any given team to play all three
group games in two adjacent clusters so they don't have to
travel all the way from one extreme city to another but the
gameplan is up to Fifa."
Russia's preparations for 2018 have been overshadowed
by the ongoing political crisis in Ukraine but Sorokin remains
confident that the fallout from the conflict will not deter
fans from attending the tournament.
"Tourists will come to Russia to see the matches of the
World Cup," he insisted. "They will not come to discuss
political developments which, by then, will be all in the past.
They will come to see the football and enjoy their trip to
Russia. That is what they will get."