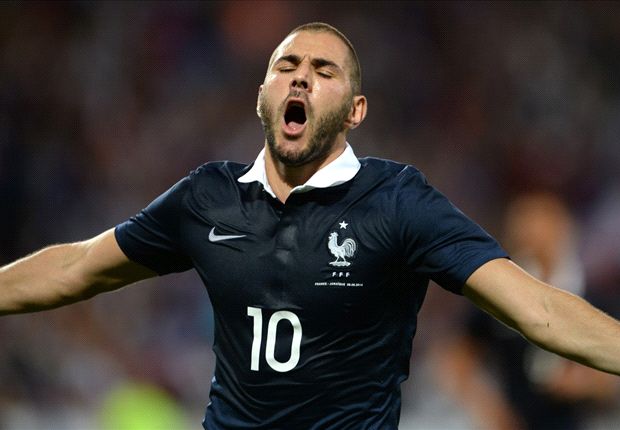 Ahead of France's World Cup opener against Honduras
in Porto Alegre on Sunday, the centre forward laments
the loss of the Ballon d'Or nominee from Didier
Deschamps's squad
France striker Karim Benzema has lamented the timing of an
injury that will keep Franck Ribery from playing at the World
Cup.
Although the Bayern Munich winger was initially named in
Didier Deschamps's 23-man squad to travel to Brazil, he had
to withdraw because of ongoing back trouble.
Benzema admits the absence of their star player has
affected Les Bleus heading into the tournament but says
that they can compensate for the loss.
"It's unfortunate for both Franck and us," the Real Madrid
forward told the Times of India. "He was so keen to play the
World Cup but he picked up this injury at a horrible time. When
a player of his calibre is not available, you are bound to feel
it.
"Injuries are part and parcel of a professional footballer's
life. It was most unfortunate, especially since it involved one
of our best players, but we are preparing ourselves in the
best possible manner and we all know Franck will be with us,
supporting all of us, during the tournament."
France have been handed a draw perceived to be kind,
though Benzema is certainly not treating their opponents as
pushovers.
He noted: "I am aware of the surprises involved in a World
Cup.
"Our coach, the former captain of the World Cup-winning
1998 team, Didier Deschamps, has clearly defined what our
roles should be during the first round and the targets we are
looking to achieve at the World Cup. We need to qualify from
the group first and for that we need to play three very,
very good games.
"There are no easy games in a World Cup."