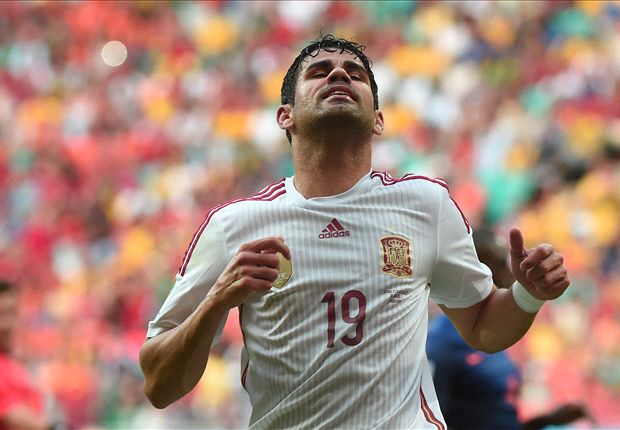 The 25-year-old striker is adamant that his side
cannot give up as they look to recover from their 5-1
demolition on Friday, determined to recover and
defend their World Cup title
Diego Costa is hopeful that Spain can learn from their 5-1
humiliation at the hands of Netherlands in their World Cup
opener.
The holders threw away a one goeal lead as doubles from
Arjen Robben and Robin van Persie, as well as a goal from
Stefan de Vrij, set the Dutch on their way to an unexpected
victory.
Costa believes that his team have to improve on their dismal
performance but still feels that they can progress from the
group stage.
"Nobody likes to lose and even less in this way but people
know that we can't give up because we have lots of
possibilities," he declared to the press.
"We must learn from defeats and they can serve us as a
lesson so that it doesn't happen again.
"We have options. The good thing in life is that there is
always an opportunity, we have to take advantage of this
and fight right to the end."
Regardless of the defeat to Louis van Gaal's side, the 25-
year-old insists that he is happy in the squad.
"I am very happy and content for my first World Cup," said
the Brazilian-born striker. "It's not been the start that I
wanted but it is necessary to take the good things [from
the situation].
"I will give everything for this shirt. If we are all united
together we can advance the cause and make people as
happy as before."