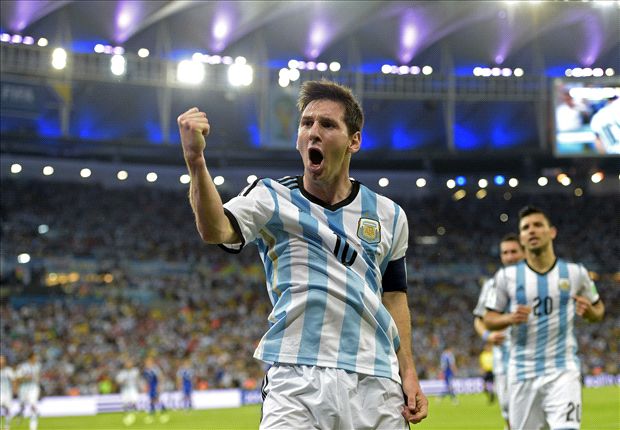 COMMENT: Just as the critics were finding their
voices, the Barcelona superstar reminded everyone of
his brilliance with a well taken goal in Argentina's Group F
opener
By Paul Macdonald at the Estadio Maracana
The flashbulbs burst. The Argentina fans chanted with such
gusto and energy that it was befitting of the occasion:
World Cup football's return to the Maracana. But for a while,
it was all a bit sterile.
Then the man that everyone came to see put his mark on
this tournament. Lionel Messi is here. His stunning goal in the
2-1 win over Bosnia & Herzegovina, exchanging passes with
Gonzalo Higuain before swerving through challenges and
curling into the corner, is just his second at a World Cup. And
it may well be one of his best after the final reckoning.
This was, of course, his big build-up. Messi at the Maracana
- that's where iconic football moments are made. And for a
long time it was weighing not only on his mind but on that of
the team. He was statistically the worst player on the pitch
in the first half, losing possession 15 times.
But coach Alejandro Sabella made a tactical change, and the
shackles were removed. A different player emerged.
Messi and strike partner Sergio Aguero were thrown
together in an unconvincing 5-3-2 formation from the start
by Sabella, forced upon him due to injury concerns over
Higuain and Fernando Gago. The set-up wasn't conducive to
incisive attacking football. Aguero completed six passes in
the entire first half, while Messi looked disinterested in
finding the space necessary so deep in Bosnian territory.
But Sabella has unquestionably unlocked Messi's ability at
national team level like no other coach has, and he resorted
to the formation that worked so well for him, and his
superstar, during qualification.
The resulting 4-3-3 with Messi drifting off the front
instantly rejuvenated a team that had previously looked
stale. Messi was then collecting the ball facing the goal
rather than with his back to it and had able runners in
Aguero, Angel Di Maria and Higuain.
This was, of course, by no means a vintage Messi display.
Passes still went astray and there's still much room for
improvement in his performance and that of the entire unit.
But the skill and poise shown in that goal, and his coach's
decision after just 45 minutes to discard the tactic he had
been operating with, are both significant. He was running,
linking, jinking, tackling. A proverbial performance of two
halves.
There is work to do yet. Bosnia & Herzegovina showed
ambition in the last 15 minutes and Vedad Ibisevic's goal
meant more pressure on the scoreline than there ought to
have been. But the match will be remembered for one
moment and Argentina's boisterous fans hope their hero can
enjoy a World Cup that his talent, and ultimately legacy,
deserves.
With Sabella's tweaks and Messi's poise and determination
returning, Argentina are edging closer to justifying their tag
as potential winners.