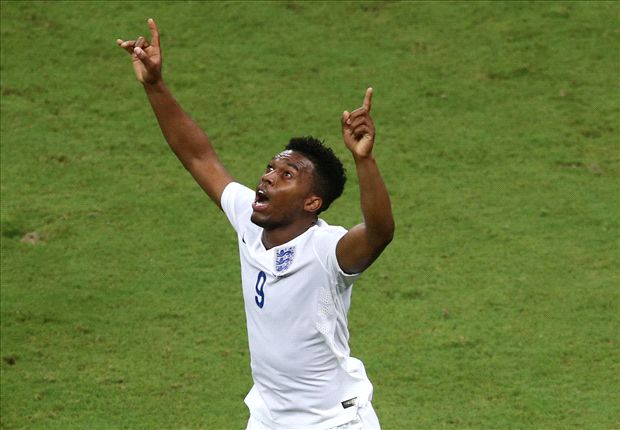 The Three Lions star's talismanic club team-mate is
expected to return to the Celeste side after a knee
injury for the crucial Group D encounter in Sao Paulo on
Thursday
By Greg Stobart in Rio de Janeiro
Daniel Sturridge hopes that Liverpool team-mate Luis Suarez
is passed fit to face England and says that Roy Hodgson's
men have no fear about facing Uruguay on Thursday.
Suarez is expected to return from a knee injury for the clash
in Sao Paulo despite missing the Celeste's 3-1 defeat to
Costa Rica in their opening Group D fixture.
Sturridge says that he has not heard from his Suarez but
claims that the Three Lions have no particular plans hingeing
on his participation as thhey look to bounce back from their
2-1 defeat to Italy on Satuday.
"I hope he's fit; we want to face the best Uruguay
possible," the forward told the media at England's training
base in Urca.
"It's about our team and we will look to play the same way
whether he's fit or not.
"I'm not on texting terms with Luis at the moment. I don't
think Steven Gerrard, Jordan Henderson, Glen Johnson or
Raheem Sterling are either. I don't think he wants to give
away how he's feeling. He's not asked me for any clues and
I've not asked him for any clues. Whether they have Luis or
not, we'll play the same."
Sturridge feels that England deserved at least a point
against Italy in Manaus and concedes that Thursday's fixture
has become make-or-break for the Three Lions' hopes of
qualifying for the second round.
"We realise it's a big, big occasion for ourselves and our
careers," he acknowledged. "Some people only get to play
one World Cup so you don't want to go home early. It's the
results that matter, not the performances.
"I don't think it's a game anyone wants to miss, whether
they are a player or a supporter, from Uruguay or England.
Kids will be leaving school early to watch the game."