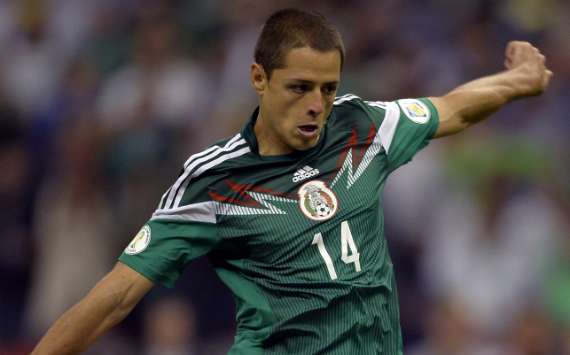 Miguel Herrera's side picked up maximum points against
Cameroon despite some more refereeing controversy
and their striker insists they can mix it with the best
Javier Hernandez feels Mexico can beat any team in the
World Cup after they defeated Cameroon 1-0 on Friday.
Despite Giovanni dos Santos seeing two goals incorrectly
disallowed for offside in the first half, Miguel Herrera's men
picked up all three points from their opening fixture
through Oribe Peralta's goal on the hour mark.
And Hernandez feels his side are capable of beating anyone,
as they prepare to meet Brazil and Croatia in their remaining
group-stage matches.
"We know we are going game by game, trying to get the three
points and no team looks easy for us but no team
looks impossible for us to beat," he told reporters after the
game.
"The truth is we entered the game with no pressure, no
matter what other people thought or said, we came with
the illusion and motivation of a World Cup. You have to see
coming here as a showcase, as an incredible opportunity to
do what you love most, that is playing football in the best
competition."
The Manchester United striker refused to criticise the
officials' performances after another 90 minutes of
controversial decisions, insisting they are only human.
"We have to be respectful, we didn't know they were
wrongly disallowed. We were told at half-time. Referees are
human and they are a third factor that we can't control -
they try to do their best.
"If we can miss, so can they, it's part of football."
The striker also stressed that Brazil cannot be considered
more dangerous than Croatia as Mexico prepare for their
next two matches.
"All three are difficult, all have their own set of
circumstances, but for us they are all equal.
"We are happy, we feel good, very motivated; we try to see
things very simple, that this is football, what we love more."